Full Text
A 66-year-old woman had a past medical history of high blood pressure, hypercholesterolemia controlled with statins, hypertriglyceridemia of 240mg/dl, and a history of smoking measured as 30 pack/years. She was previously diagnosed with undifferentiated pleomorphic sarcoma in the right gluteal muscle that was treated through surgical resection months before her present symptom onset and was in remission at the time the digestive symptoms started. The patient came to the emergency department complaining of nonradiating epigastralgia that did not respond to analgesia, nausea, recurrent vomiting, and liquid diarrhea of 2-day progression. Forty days prior, she presented with nonradiating epigastralgia that did not improve with omeprazole and domperidone and she had 5-kg weight loss. Significant results from the laboratory work-up were normocytic anemia with leukocytosis and thrombocytosis, as well as minimally altered GOT (43 IU/l) and GGT (480 IU/l). The rest of the liver profile was normal.
Gastroscopy (fig. 1A-D) revealed nodular gastric mucosa, a pale corpus and antrum, and areas of preserved mucosa. There were multiple fibrin-covered ulcers in the gastric antrum, incisura angularis, and lower corpus (Forrest III). Biopsies showed acute focal activity, foveolar hyperplasia, and regenerative epithelial changes with no metaplasia, atrophy, or dysplasia. The patient had no previous history of NSAID use. Intravenous contrast-enhanced abdominal tomography (fig. 2A-D) identified the presence of aortic atheromatosis with thickening of the wall and occlusion of the celiac trunk and the first two centimeters of the superior mesenteric artery. That double occlusion explained the clinical symptoms of chronic mesenteric ischemia and gastric ischemia that worsened in the last two days. The patient underwent middle laparotomy with thrombectomy of the superior mesenteric artery and aorta-to-superior mesenteric artery bypass, resulting in reduced pain intensity. The histologic study of the thrombi was negative for malignancy and metastatic embolism was ruled out. Control tomography 30 days later showed aorta-to-superior mesenteric artery bypass permeability, but there were peritoneal implants related to sarcoma recurrence. The sarcoma was confirmed through puncture of the lesions and in later oncologic follow-up, suggesting paraneoplastic thromboses.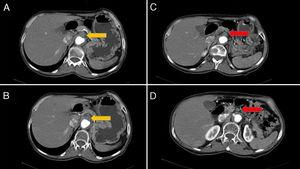 Figure 2.
Intravenous contrast-enhanced computed axial tomography scans. The yellow arrow (A and B) points to a large thrombus at the exit of the celiac trunk, unfilled with contrast material. The splenic and hepatic arteries are filiform and have reduced calibers. The extensive aortic atheromatosis is striking. The red arrow (C and D) indicates the 2-cm occlusion of the proximal superior mesenteric artery.
(0.16MB).
Financial disclosure
No specific grants were received from public sector agencies, the business sector, or non-profit organizations in relation to this study.
Conflict of interest
The authors declare that there is no conflict of interest.
Please cite this article as: Miranda-García P, Casals-Seoane F, Santander-Vaquero C. Isquemia gástrica y mesentérica por doble oclusión arterial. Revista de Gastroenterología de México. 2018;83:342–343.