Full Text
A 91-year-old man receiving antiplatelet and anticoagulant treatment presented with rectal bleeding and anal pain of 6-month progression. He had no improvement with usual care and topical treatment for a hemorrhoidal crisis. An anal polyp in the posterior raphe was palpated in the digital rectal examination. Colonoscopy identified a 30 mm, purplish, ulcerated sphere-shaped lesion (Fig. 1A and B). Histopathologic study revealed squamous mucosa, with infiltration of the lamina propria by large fusiform cell nests with melanotic pigment, and immunohistochemistry (positive for HMB-45, negative for K5/6) consistent with malignant melanoma (Fig. 2A and B). No evidence of metastatic disease was found but radical oncologic treatment was ruled out due to advanced age and comorbidity. Palliative surgery was performed, and the patient progressed favorably. After one year, he remains asymptomatic.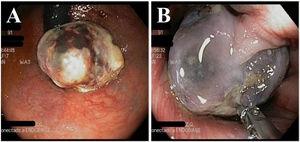 Figure 1.
Endoscopy. (A) Anal mass viewed during the rectal retroflexion maneuver. The pedunculated, mobile lesion enters into the rectum but does not affect the rectal mucosa. (B) The mass is dependent on the anal canal and a mucosal pedicle can be seen in the forward view. A sample is taken using a biopsy forceps.
(0.12MB).
Figure 2.
Histology. (A) Diffuse infiltration of the lamina propria by a neoplasm composed of bundles of spindle cells, with atypical nuclei and melanotic pigment (hematoxylin-eosin ×100). (B) Immunohistochemical staining for HMB45 with AEC that shows cytoplasmic positivity in the neoplastic cells (×100).
(0.26MB).
Anal melanoma accounts for less than 1% of anorectal malignancies and 2% of all melanomas.1–3 Rectal bleeding is the most common symptom.1–3 The disease can also present as a mass, anal pain, and pruritus that are clinically nonspecific and often attributed to the frequent, benign condition of hemorrhoids, delaying diagnosis.1–3 Anal melanoma is a rare and very aggressive entity.1–5 Radical surgery does not increase survival and adjuvant therapies are not effective.1 The 5-year survival rate is 20%.2 A high level of clinical suspicion is indispensable for early diagnosis and adequate treatment.4 Digital rectal examination should be carried out in all patients with rectal bleeding.1 The present case also illustrates the importance of including rectal retroflexion during colonoscopy, in those patients.6
Ethical considerations
The authors declare that no experiments were conducted on humans or animals for the present research, that they have followed the protocols of their work center on the publication of patient data, and that they have preserved patient anonymity at all times. Given that the usual clinical practice procedures were carried out in the present case, approval by a research ethics committee was not required. Informed consent was not necessary for the publication of this case because the article contains no personal data that could identify the patient.
Financial disclosure
No specific grants were received from public sector agencies, the business sector, or non-profit organizations in relation to this study.
Conflict of interest
The authors declare that there is no conflict of interest.
Please cite this article as: Castillo-López G, Villanueva-Sánchez MC. Melanoma anal: causa atípica de rectorragia en paciente anciano. Revista de Gastroenterología de México. 2021;86:433–434.
Copyright © 2021. Asociación Mexicana de Gastroenterología