Full Text
Intestinal intussusception or invagination refers to the penetration of a segment of the gastrointestinal tract into another distally situated one, that can result in bowel obstruction or strangulation. It has a high incidence in children, but represents only 1-5% of the cases of bowel obstruction in adults. An organic lesion is found inside the invagination in 90% of the cases. The most common locations are ileoileal, with double ileoileal and ileocecal locations being less frequent.
A 36-year-old man with an unremarkable past medical history arrived at the emergency service with diffuse, intense abdominal pain of 10-h progression. It was exacerbated by eating and accompanied with nausea and vomiting. The patient complained of recurrent watery diarrhea and colicky abdominal pain during the past month. Physical examination found the patient afebrile, with blood pressure of 172/98mmHg, and heart rate of 75 bpm. His abdomen was soft, but intensely painful at the right iliac fossa. The Blumberg sign was negative. The striking results of the laboratory work-up were the leukocyte count of 13.75×103/mm3 and segmented neutrophils of 81.4%. An abdominal computed tomography scan showed: "ileocolic invagination, possibly secondary to lipoma, with likely liver hemangiomas" (fig. 1). Emergency exploratory laparotomy revealed a long ileal segment invaginated into itself and overlapping into the cecum, with proximal segment dilation. Given the impossibility of de-invagination, the friability of the affected intestine, and the large size of the lesion, conversion was decided upon. Ileocecal resection through a supra-infraumbilical midline laparotomy (fig. 2) and ileocolic anastomosis were carried out, after a repeat failed reduction attempt. The opened surgical specimen (fig. 2) revealed the 35-cm invagination of an ileal segment into the terminal ileum and cecum, with approximately 10cm of ischemia and a pedunculated 4-cm lesion at the ileal end, highly suggestive of lipoma, which was confirmed by the anatomopathologic study. The patient progressed favorably and was released on postoperative day 8.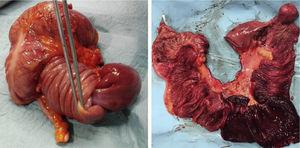 Figure 2.
Image of the closed and open surgical specimen from the ileocecal resection, showing the invagination of the ileal segment into itself and overlapping into the cecum, as well as the lead point for the invagination (ileal lipoma measuring 4cm) and the ischemia of the 10-cm segment of the terminal ileum.
(0.42MB).
Intestinal invagination was first described by Barbette in 1674.1 Its etiology in children is usually idiopathic, but in adults, with an annual incidence of 3 cases per million inhabitants, there is an underlying lead point that is well-defined in 90% of the cases.2 Lesions in the small bowel tend to be benign, with idiopathic intussusception in only 8-20% of the cases.1–3 In the large bowel, the most frequent underlying cause is adenocarcinoma.1,3 Small bowel tumors make up 2-3% of all gastrointestinal tumors and 30% are benign.4 Lipomas are the second most frequent benign tumor, and large ones can cause symptoms of obstruction or bleeding, or be the lead point for intussusception,3 as in our patient.
In a 1954 study, different case series that included a total of 745 surgically diagnosed invaginations were reviewed. With respect to location, 39% were enteroenteric, 21% were ileocecal, 17% colocolic, 13% ileocolic, and the stomach, duodenum, or stomata were involved in 10%.5,6
Symptoms in children are well described (acute abdominal pain, "red currant jelly" stools, and palpable tumor),1 but in adults, they are nonspecific and often suggest bowel obstruction.7 Recurrent crises of abdominal pain are frequently noted in the anamnesis.5 In a case series of 58 adult patients by Azar and Berger, published in 1997,7 only one correct diagnosis was made in 32% of the patients, leading to the later publication of numerous articles that specified the high number of cases with no preoperative diagnosis.5,7 This is different today. In a 2009 review by Morera-Ocón et al.5 that included 30 patients, they reported that diagnosis was made before surgery in 83% of the cases. Ultrasound imaging has a sensitivity of 100% and a specificity of 88%.8,9 Abdominal computed tomography evaluates the etiology and locoregional or distant involvement when there is a malignant tumor.7 If the ultrasound displays the characteristic "bulls-eye" in the cross-sectional view and the "pseudo-kidney" in the longitudinal view, a preoperative abdominal computed tomography scan may be unnecessary. At present, surgical intervention with bowel resection is the standard treatment, given the probability of an underlying malignant lesion or necrosis and perforation of the invaginated segment.5 There is no current evidence to contraindicate de-invagination, which can also facilitate exposure for the resection,9 but it is not always possible, as in our case. In addition, it is important to treat the underlying cause9 and contemplate the possibility of laparoscopic surgery,1,10 as long as it is performed by an expert team.
In our review of the literature, we found only 2 cases of intussusception caused by an ileal lipoma whose invagination extensions (19 and 20cm)1,11 were similar to that of our case, which was the largest (35cm).
Conflict of interest
The authors declare that there is no conflict of interest.
Please cite this article as: Vázquez R, Poletto DJ, Moreno MT, Climent A, Toscano E. Intususcepción íleo-ileal e íleo-cecal por lipoma ileal: una causa poco frecuente de obstrucción intestinal en el adulto. Revista de Gastroenterología de México. 2018;83:457–459.
Copyright © 2017. Asociación Mexicana de Gastroenterología