Full Text
We present herein a 66-year-old man that came to the emergency department due to asthenia, melena, and abdominal pain that improved after bowel movements. Physical examination revealed a soft, depressible, nonpainful abdomen and digital rectal examination was clean, with an empty rectal ampulla. The only outstanding laboratory test result was iron-deficiency anemia, with hemoglobin of 10 g/dl. Upper gastrointestinal bleeding was suspected, and so endoscopy was performed. The study showed a 4 cm ulcerated, nodular mass, with a central depression at the level where the greater stomach curvature and the lesser stomach curvature come closer together, suggestive of neoplasia, for which biopsies were then taken (Fig. 1A and B).
Figure 1.
A and B) Upper gastrointestinal endoscopy image, showing a nodular lesion with a central, ulcerated depression, located at the level where the greater stomach curvature and the lesser stomach curvature come closer together. C) Histologic slice of the lesion, with H&E staining and ×40 magnification. A submucosal, ulcerated, nodular lesion, with granulation tissue, can be seen. Mature adipocytes, with no nuclear atypia, lipoblasts, or pleomorphic cells, intermixed with fibroblasts, lie beneath the ulcer.
(0.73MB).
Given that a gastrointestinal stromal tumor (GIST) was highly suspected, an iodine-based intravenous contrast-enhanced computed tomography (CT) chest-abdomen-pelvis scan, with gastric chamber distension, utilizing a negative contrast agent, was performed, as a radiologic extension study. It identified a well-delineated, localized focal lesion in the greater curvature of the stomach (Fig. 2A), anterior to the gastric antrum, with low density (–85 HU) and an ulcerated tract in its interior (Fig. 2B). Said image suggested an ulcerated gastric lipoma, measuring approximately 22 × 24 mm in diameter (Fig. 2C), which was later confirmed in the anatomic pathology study. The histologic slides, with hematoxylin-eosin staining, showed ulceration of the gastric mucosa, with granulation tissue, and an underlying fibroadipose nodular lesion was observed. The adipocytes were mature, with no nuclear atypia or lipoblasts (Fig. 1C). Immunostaining for CD117 and DOG-1 was negative, and GIST was ruled out. Likewise, a well differentiated atypical lipomatous tumor/liposarcoma was ruled out.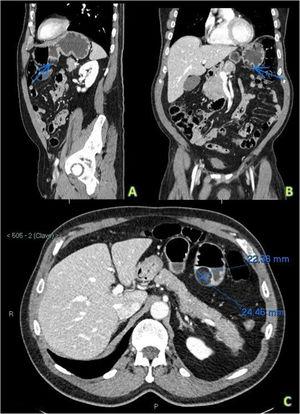 Figure 2.
Sagittal view (A), coronal view (B), and axial view (C) of intravenous contrast-enhanced abdominopelvic CT images. A) Sagittal view, in which the arrow points to a round and well delineated lesion, dependent on the greater curvature of the stomach and close to the antrum. Its density is similar to that of fat, the lesion is non-enhancing, and it is consistent with an ulcerated lipoma. B) Coronal view, in which the fat density in the interior of the same gastric lesion is subtly increased (ulcerated tract). C) Axial view, showing the measurements of the lipomatous lesion to be approximately 22.4 × 24.5 mm.
(1.24MB).
The patient is currently awaiting surgery.
Gastrointestinal tract lipomas are rare, benign, and slow-growing, and are more frequent in the colon. Gastric lipomas present in fewer than 5% of cases and account for fewer than 1% of all gastric tumors.1 The cases described in the literature mainly refer to lipomas in the antrum (75%), and none have been described in the cardia or the pyloric canal.2
Their etiology is unknown, although an acquired condition or one secondary to an embryonic alteration are thought to be the most likely origins.1
Gastric lipomas tend to be incidental findings, given that they are rarely symptomatic. However, when symptoms do present, the most common is gastrointestinal bleeding, which occurs in 50% of the cases.2 Other symptoms can be obstruction or invagination.3
They can be diagnosed utilizing imaging studies, such as CT or magnetic resonance imaging, as well as upper gastrointestinal endoscopy, but the definitive diagnosis is made through anatomic pathology study. CT has been shown to be very useful in their identification, given that their pathognomonic features are a round, homogeneous mass with low density (between –80 and –120 HU).2,3 Linear strands of soft tissue attenuation could mean that an associated ulcer and fibrovascular septa are present, but liposarcoma should be considered in the differential diagnosis.3 GIST must also be included among the diagnostic options, albeit those tumors tend to appear as a solid lesion, whose density is similar to that of soft tissues, with central necrosis. That explains why GISTs have only peripheral enhancement when a contrast agent is administered, and internal calcifications are rare.4
Magnetic resonance imaging also appears to be a reliable method for diagnosing the fatty nature of gastric lipomas. There is a hyperintense signal typical of fat in the T1-weighted sequences, whereas the signal is reduced in the sequences with fat suppression.5
In upper gastrointestinal endoscopy, gastric lipomas appear as clearly defined, soft mucosal masses that are often yellow, in contrast to the surrounding pink mucosa. Three signs have been described to aid in identifying lipomas in the endoscopic examination: 1) the tenting sign: the overlying mucosa is easily retracted with biopsy forceps; 2) the cushion sign: the forceps produce a soft, cushioning indentation when applied to the lipoma; and 3) the naked fat sign: the fat protrudes through the overlying mucosa after the performance of multiple biopsies.3
Histologically, lipomas are composed of mature adipocytes that express vimentin, CD34, and S-100 protein through immunohistochemistry,3 the same as liposarcoma cells. If nuclear atypia or lipoblasts are observed, fluorescence in situ hybridization for MDM2 amplification must be performed, and liposarcoma ruled out. If it is necessary to rule out GIST, immunostaining for CD117 and DOG-1 is obviously very useful.6
Gastric lipomas have an excellent prognosis and no cases of malignant degeneration have been reported.2 They have a recurrence rate below 5%, which more frequently occurs if there was inadequate excision of the fibrous capsule.3
Treatment is controversial. Endoscopic extirpation is recommended in lipomas under 4 cm, whereas exeresis is the recommended procedure in those that are larger or symptomatic.7 In the latter cases, partial or total gastrectomy can be performed, or laparoscopic resection can be carried out.
In conclusion, even though gastric lipomas are rare and benign, imaging studies are an essential tool for their diagnosis, enabling their differentiation from potentially malignant tumors, such as GIST or liposarcoma. However, their definitive diagnosis will always be histologic.
Ethical considerations
Informed consent was not requested for the publication of the present case because the article contains no personal data that could identify the patient.
The present work is not a research study and meets the current ethical regulations. There are no data in the text or images that can identify the patient.
Financial disclosure
No specific grants were received from public sector agencies, the business sector, or non-profit organizations in relation to this article.
Conflict of interest
The authors declare that there is no conflict of interest.
Please cite this article as: Garrido-Márquez I, García-Pérez PV, Moya-Sánchez E, Carrero-Castaño A. Lipoma ulcerado como causa infrecuente de tumor gástrico. Revista de Gastroenterología de México. 2022;87:496–499.
Copyright © 2022. Asociación Mexicana de Gastroenterología