Full Text
Tumor multicentricity is occasionally observed in esophageal squamous cell carcinoma.1–3 It is linked to genetic instability of the p53 gene, added to the loss of heterozygosity, as early events of the carcinogenesis of multifocal or multiple squamous cell carcinoma of the esophagus,4,5 and to risk factors associated with the environment and lifestyles.2,6
Case presentation
A 47-year-old woman, who was a heavy smoker for more than 20 years, sought medical attention for moderately intense, continuous retrosternal chest pain of 3-month progression that was exacerbated by food intake, and for dysphagia with solid foods, and weight loss. Physical examination revealed tachycardia, dyspnea, cachexia, and bad teeth. Upper gastrointestinal endoscopy study identified the presence of 2 lesions with a tumor-like aspect in the middle and lower third of the esophagus. They exhibited an elevated level of annular and stenosing plaque growth, respectively (Fig. 1). Afterwards, transhiatal esophagectomy through left cervicotomy was performed. The pathology study reported well differentiated multiple squamous cell carcinoma with annular stenosing growth infiltrating up to the periesophageal fibroadipose tissue with moderately differentiated squamous cell carcinoma foci at the level of the serosa and periesophageal tissue, regional lymph node metastasis, and multifocal lymphatic and blood vascular invasion (Fig. 2). The patient had satisfactory postoperative progression.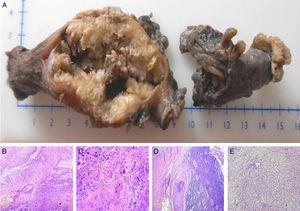 Figure 2.
A) Segment of the middle and distal esophagus showing tumor formation with annular and infiltrative growth up to the serosa that almost completely obstructs its lumen. B and C) Squamous cell carcinoma with intercellular bridges, corneal pearls, dyskeratotic cells, and atypical mitoses. D) Lymph node metastasis. E) Areas of periesophageal tissue with neoplastic nodules of moderately differentiated squamous cell carcinoma (with no intercellular bridges, corneal pearls, or keratin (H&E stain).
(0.47MB).
This is a very unusual case in a young woman, a heavy smoker, presenting with multifocal squamous cell carcinoma. It contrasts with the habitual esophageal squamous cell carcinoma predominantly observed in men above 60 years of age. The particular circumstance of this patient could be linked to the possible coexistence of genetic instability of the p53 gene, added to the marked and prolonged smoking habit. Mutations in the p53 gene, together with the loss of heterozygosity, constitute early events of multiple step esophageal carcinogenesis of multiple primary squamous cell carcinoma.4,7,8 In addition, the marked and prolonged smoking habit is also closely related to the events of multicentric carcinogenesis in the upper gastrointestinal tract, including the esophagus.6 Saeki et al.9 established the fact that cigarette smoking is clearly associated with an increased frequency in the accumulation of the p53 protein in cases of multiple primary squamous cell carcinoma. Consequentially, this mixture could solidify early and rapid carcinogenesis, with the subsequent development of multifocal squamous cell carcinoma, as observed in the present case.
Financial disclosure
No financial support was received in relation to this article.
Conflict of interest
The authors declare that there is no conflict of interest.
Please cite this article as: Silva-Silva RA, Romero-Amaro ZR, Linares-Larrazabal LA, Arismendi-Morillo GJ. Carcinoma epidermoide de esófago múltiple y sincrónico en una mujer joven: ¿un ejemplo de carcinogénesis temprana y rápida? Revista de Gastroenterología de México. 2016;82:176–178.
Copyright © 2016. Asociación Mexicana de Gastroenterología